06/15/2018
TravelCenters Boosts Tire Services With Addition of Retread Plant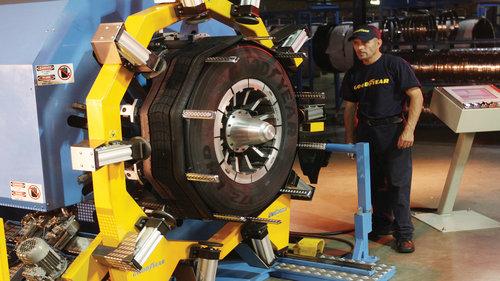 WESTLAKE, Ohio —  TravelCenters of America LLC enhanced its ability to offer commercial tire services to professional drivers with the acquisition of a commercial tire retread plant.
The 32,000-square-foot retread center will be part of the Goodyear Authorized Retread Network, providing a full line of Goodyear commercial tire retread products including Goodyear UniCircle retreads to fleets, local industries and tire dealers within a 150-mile radius of the plant's location in Bowling Green, Ohio.
In addition, numerous TA Truck Service facilities will have access to Goodyear brand retread tires produced at this plant.
"Adding a retread center to the TA Truck Service Commercial Tire Network portfolio reconfirms our commitment to expanding the array of tires we offer to our customers," said Skip McGary, executive vice president commercial operations of TravelCenters. "Not only will we be producing a quality Goodyear retread product, but we will also be able to provide a complete cradle-to-grave tire management program."
Since the launch of the Commercial Tire Network at the end of 2016, TA Truck Service has provided customers with a combination of a wide product choice, flexible delivery/install capability and competitive pricing.
Through this new TA Commercial Tire Network Retread Center, customer-owned casings can now be retreaded with Goodyear treads, a solution that helps to lengthen the life of the tires, minimizes downtime and lowers fleets' cost-per-mile, according to TravelCenters.
During the company's earnings call on May 7, President and Chief Operating Officer Barry Richards previewed that TravelCenters was close to closing on the acquisition of a tire retreading plant, as Convenience Store News previously reported.
"One of our goals when we launched this initiative was to ensure we are providing the breadth of tire products and services our customers require today because we believe customers look to consolidate their purchases with fewer suppliers whenever possible," Richard said on the call.
Along with the purchase of the facility, TravelCenters has invested $2.9 million in retread equipment, including a Shearography inspection system. This laser technology is part of the two-step casing inspection process, which helps increase the quality and performance of the retreaded tire.
Local customers will be able to purchase Goodyear retreaded tires, as well as shop for a full line of new Goodyear brand tires from the newly remodeled showroom.
Tire inspection and repair services, as well as road service, will also be available through the retread center. The TA Commercial Tire Network Retread Center is on schedule to open for full production in July.
Westlake-based TravelCenters of America operates in 43 states and Canada, principally under the TA and Petro Stopping Centers travel center brands.
The TA Truck Service network includes 244 truck service facilities with 1,090 repair bays, nearly 3,000 certified technicians, a fleet of more than 2,600 RoadSquad and third-party provider service trucks and 143-plus OnSITE mobile maintenance vehicles.
The Goodyear Tire & Rubber Co. employs about 64,000 people and manufactures its products in 48 facilities in 22 countries around the world. It has two Innovation Centers, one in Akron, Ohio, and one in Colmar-Berg, Luxembourg.