Tri Onigiri Rice Ball Snack
The popular Japanese food is available in Sriracha Salmon and Spicy Hummus varieties.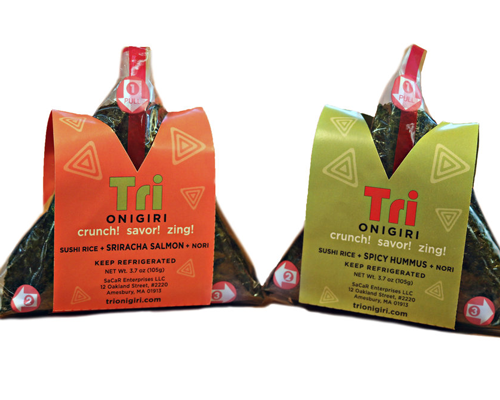 A new, triangle-shaped Japanese rice ball snack, Tri Onigiri, is now launching in convenience stores in the New England market. Onigiri is a popular food all over the world, including in parts of Asia and Europe. Tri Onigiri's spicy filling is surrounded by sushi rice and wrapped in crunchy nori, a pure, dried, crunchy seaweed. It is available in two savory varieties: Sriracha Salmon and Spicy Hummus. The snack is made with partially-milled, California-grown sushi rice, and premium seeds and seasonings. The Sriracha Salmon variety is filled with certified farm-raised, locally smoked salmon from the Duck Trap River of Maine. The Spicy Hummus variety is filled with hummus made from organic chickpeas and local tahini. The premium ingredients are responsibly farmed and harvested, as well as preservative-free, non-GMO, gluten free and antibiotic free, according to the maker. The product's wholesale distributed price is $3.33 with a suggested retail price of $3.99 to $5 per piece.