10/19/2018
Why Circle K Is the 2018 Cold & Frozen Beverages Innovator of the Year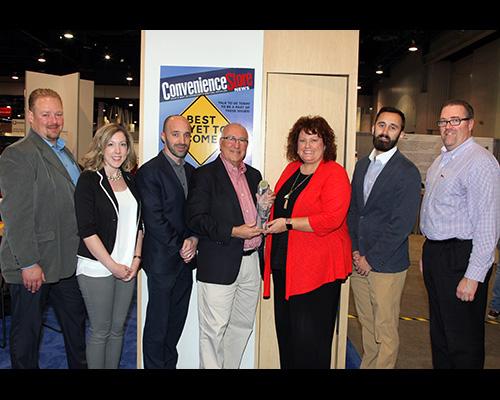 LAVEL, Quebec — Circle K was selected the 2018 Cold & Frozen Beverages Innovator of the Year in Convenience Store News' seventh-annual Foodservice Innovators Awards program.
Circle K, a wholly-owned subsidiary of Canada-based Alimentation Couche-Tard Inc., debuted in the Foodservice Innovators Awards winners' circle in 2016 for its revamped hot coffee and hot beverage program. This year, the retailer, which is part of Couche-Tard's network of 10,000-plus convenience stores throughout North America, is being recognized in the cold and frozen beverages category.
The other 2018 Foodservice Innovators Awards honorees are:
Foodservice Innovator of the Year: Rutter's

Prepared Foods Innovator of the Year: Maverik Inc.

Hot Beverages Innovator of the Year: 7-Eleven Inc.

Best New Foodservice Offering of the Year: BP/ampm

Foodservice Innovator to Watch: Dash In (The Wills Group)
Chosen by the Convenience Store News Foodservice Advisory Council — a panel of foodservice experts from the retailer, supplier, wholesaler, research and consulting fields — winners are recognized for raising the bar on quality, service and innovation in the fast-growing and critically important foodservice category in the convenience channel.
Judges on the council raved about the successful promotions that spurred more sales of cold and frozen drinks by the chain this past summer. In July, Circle K's "Your Cup, Your Rules" initiative enhanced brand awareness and customer engagement by inviting shoppers to quench their thirst with its signature Polar Pop cup. In the United States, Circle K sells 17 Polar Pops every second, according to the company — a factoid that shocked several of our judges.
The "Your Cup, Your Rules" initiative showcased how Polar Pop helps customers create the drink of their dreams and encouraged consumers to interact with the brand. During the promo, popular social media influencers, expansive digital and billboard advertising, and on-site events drove Circle K customers to fill up their cup and share their enthusiasm with the hashtag #DONTBETHIRSTY! Additionally, Circle K employees were featured in an internal video contest to show their pride in Polar Pop and how they share it with customers.
The retailer followed up the Polar Pop promotion by dispensing more cool treats on Free Froster Day, held July 10. Froster is its frozen beverage brand. Circle K stores offered free Froster drinks as it introduced a new Mango Fire Froster variety to its dispensed beverage lineup. U.S. stores were expected to give away an estimated 10,000 free medium Froster drinks that day. This promo was enhanced by the use of an app-based coupon.
Earlier this year, Circle K awarded five shoppers a $25 gift card each through a Facebook promotion to support the launch of another new Froster flavor, Sweetos Cinnamon Sugar, inspired by PepsiCo/Frito-Lay's Cheetos brand's Sweetos cinnamon sugar puffs.
"We know that thirst is a primary motivator for customers who visit our sites," said Elisa Goria, Circle K's global lead for dispensed beverages. "Being able to provide easy solutions to satisfy that desire is essential to our business success. Once inside the store, the market basket for this shopper extends past the beverage and can be quite profitable based on category affinities, including fresh food and snacks."
The Polar Pop and Froster offerings have become integral to Circle K customers' daily lives throughout North America, according to Goria. "Not only does Polar Pop deliver a great everyday value, but it also allows our customers to create the drink of their dreams, including choices of ice, cup, a single flavor or a custom mix," she added.
As a global organization, Circle K has been able to leverage learnings across its business divisions and stores to provide easily optimized solutions based on consumer preferences in various markets.
"We also have great partnerships with our strategic suppliers, like PepsiCo, that allow us to offer category exclusives, first-to-market products on value, and create differentiating customer programs," Goria noted.
Circle K is currently testing various new and innovative product and equipment solutions for the future.