10/19/2018
Why Dash In Is the 2018 Foodservice Innovator to Watch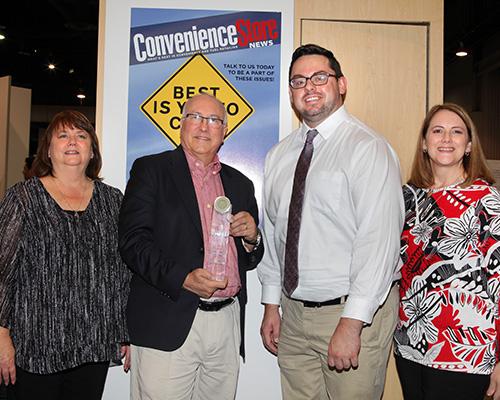 LA PLATA, Md. — Dash In, a division of The Wills Group, has been named the 2018 Foodservice Innovator to Watch in Convenience Store News' seventh-annual Foodservice Innovators Awards program.
The Innovator to Watch award debuted last year with the recognition of Pilot Flying J for the improvements it made to its fresh prepared food offer. This year, judges put the spotlight on Dash In, which operates 50 convenience stores across Virginia, Maryland and Delaware. 
The other 2018 Foodservice Innovators Awards honorees are:
Foodservice Innovator of the Year: Rutter's

Prepared Foods Innovator of the Year: Maverik Inc.

Hot Beverages Innovator of the Year: 7-Eleven Inc.

Cold & Frozen Beverages Innovator of the Year: Circle K

Best New Foodservice Offering

of the Year

: BP/ampm
Chosen by the Convenience Store News Foodservice Advisory Council — a panel of foodservice experts from the retailer, supplier, wholesaler, research and consulting fields — winners are recognized for raising the bar on quality, service and innovation in the fast-growing and critically important foodservice category in the convenience channel.
"They're building new stores with a strong food focus," one Advisory Council member said of Dash In. "As a competitor in the food heavy Mid-Atlantic, Dash In is beginning to carve out a vision of their own regarding coffee and high-quality foodservice."
Dash In's new 5,600-square-foot store in Chesterfield County, Va., is an example of why industry watchers are taking note of this up-and-coming regional chain.
Dash In President Julian B. Wills noted, "Our newest Dash In is a demonstration of our commitment to creating a store design that offers an elevated brand experience for our customers."
The Chesterfield County Dash In store features its signature Craveable made-to-order menu, along with a fresh, made-in-house grab-and-go offering that includes artisan sandwiches and salads. The menu ranges from a Memphis Pulled Pork Sandwich made with slow-cooked pork in a maple brown sugar barbecue sauce and topped with caramelized onions, to the Cranberry Chicken Croissant, a Dash In customer favorite that's made with chicken breast, dried cranberries, red onion and a hint of lime.
Dash In also serves breakfast items all day, using fresh-cracked eggs. The breakfast menu includes a flour tortilla filled with scrambled eggs, potatoes and American cheese.
Foodservice is important to the future success of convenience stores because customers are demanding more than simply competitive fuel prices, according to Darleen Nascimento, director of brand marketing at Dash In.
"Customers' purchasing decisions and frequency of visits are highly influenced by overall brand experience and, more specifically, product quality and brand reputation," said Nascimento. "Foodservice is a key player in both."
Dash In got its start in Maryland and was one of the first convenience store operators in the area to feature an in-store foodservice program.
"Recommitting ourselves to a customer-centric mindset takes us back to where we began and allows us to be authentic to our customers doing what we do best — serving up real food with a smile to people," said Nascimento, who added that Dash In is committed to pushing the boundaries of what people expect from a convenience store foodservice program.
"Our new store model reflects our commitment to transforming the Dash In brand and store experience so that we go beyond the traditional convenience store transactional experience to emphasize a local, personal experience that reflects the community where each of our Dash In stores is located — transforming necessary errands into engaging experience," said the marketing director.
For the future, Dash In is working to improve all its locations, with a focus on transforming both the store environment and customer experience.
"All of our work is being done with the customer in mind," said Nascimento. "Our goal is to make life more rewarding for time-stretched people by emphasizing a sense of local, personal connection that transforms the necessary errands of today's busy lives into engaging experiences."
Headquartered in La Plata, The Wills Group is the parent company of SMO Energy, a leading provider of propane, heating oil and HVAC equipment in southern Maryland; Dash In Food Stores; Splash In ECO Car Wash; SMO Motor Fuels; and Potomac Energy Holdings.