Bud Light "Philly Philly" Pack
The limited-edition commemorative pack celebrates the Eagles' Super Bowl LII victory.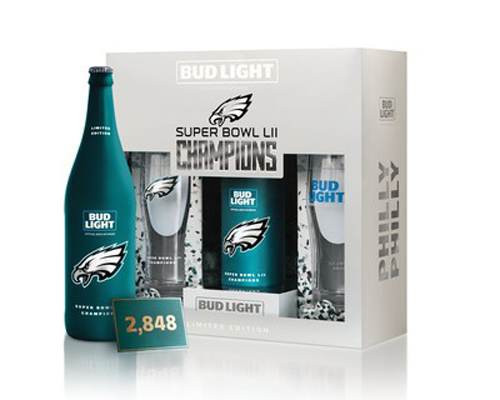 Bud Light and the Philadelphia Eagles unveiled the "Philly Philly" Pack, a limited-edition, commemorative pack that celebrates the team's Super Bowl LII victory. Inspired by the name of the game-changing play call, "The Philly Special," and the popular "Dilly Dilly" campaign, Bud Light has produced 20,418 of these packs, which corresponds with the date of the Eagles' Super Bowl win on 02/04/2018. The commemorative packs go on sale Aug. 16, the day of the Eagles' third preseason game, a Super Bowl LII rematch against the New England Patriots. Each pack is individually numbered and includes a 25-ounce Bud Light aluminum bottle and two specially designed Bud Light glasses, etched with the legendary "Philly Special" play. Select packs will also give fans the opportunity to receive tickets to the Eagles' first regular season game on Sept. 6.