06/12/2018
Casey's Puts Value Creation Plan Into Action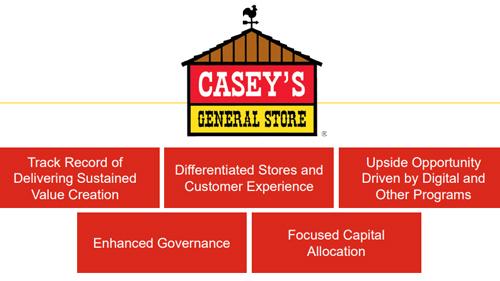 ANKENY, Iowa — Three months after introducing a value creation plan — and six months after some of its shareholders called for change — Casey's General Stores Inc. moved forward on several fronts in its fiscal year 2018 fourth quarter.
In early March, Casey's unveiled its new value creation plan, which is comprised of several key programs and drivers, including enhanced store performance through a new fleet card program, price optimization and digital engagement programs, as Convenience Store News previously reported.
The plan also includes a continuing focus on controlling operating expenses and capital reallocation.
"We are confident these key initiatives will drive accelerated sales and profitable growth and, most importantly, increase shareholder return," Casey's President and CEO Terry Handley stated during the company's fourth-quarter fiscal year 2018 earnings call on June 12.
The chief executive provided a more detailed update on the enhanced store performance initiatives:
FLEET CARD PROGRAM
Casey's new fleet card program is a more aggressive approach than the company has taken in the past to address "this important customer category," said Handley.
Since unveiling the value creation plan, the retailer completed a request for proposals (RFP) and selected FleetCor as its partner. Casey's will onboard a new fleet card manager next week and begin implementing a new fleet card program in the second quarter of fiscal year 2019.
"We expect to begin seeing benefits from this program by the start of Q3 fiscal 2019, resulting in an incremental lift in fuel volume and in-store sales driven by increased traffic," the CEO said.
PRICE OPTIMIZATION
Price optimization will allow Casey's to leverage the sales data generated by its store network, combined with market data — such as OPIS information — to make centralized, rules-based pricing decisions at the pump and in the store.
The move will improve sales and margins in every category throughout the network, according to Handley.
To date, Casey's completed an RFP and identified the optimization platforms for fuel and in-store. The retailer will begin testing in the second quarter, with a planned rollout of fuel optimization and select key items inside the stores in the third quarter.
Casey's will then expand the price optimization program in the first quarter of 2020 to all remaining categories.
"We are excited about the opportunities we believe this program will bring to the company as it represents the fundamental shift in our marketing process for both fuel and in-store purchases due to the increased visibility into our pricing and promotion strategy," Handley explained.
DIGITAL ENGAGEMENT
Casey's digital engagement over the last quarter hit several key milestones. For starters, the convenience store chain completed the onboarding of Chris Jones, new chief marketing officer, who will lead the digital engagement implementation process.
"He brings tremendous experience in digital and brand development to our organization," Handley explained. "With his leadership, we are working on accelerating our timetable, with our goal to begin piloting certain parts of this program — including loyalty — in the fourth quarter of fiscal 2019."
The retailer also completed the startup and design phase of its  digital transformation, including vendor review and selection of technology. The digital engagement program will include a new ecommerce platform, marketing automation tools, and a customer loyalty program.
"Upon integration of the digital engagement program, we intend to create a seamless customer experience both online and in-store that offers new digital product categories and facilitates personalized marketing and rewards," Handley said.
This, he added, will involve an enhanced website, a redesigned mobile app, a loyalty program, in-store technology, and enhanced enterprise infrastructure.
"This digital platform will allow us to gain a deep understanding of our customers and better serve them by providing the seamless convenience they value, and target effective promotions that drive additional customer visits," he said.
Casey's expects to realize significant benefits from this program, including same-store sales growth, starting next fiscal year.
OTHER MEASURES
In addition to the enhanced store performance initiatives, the retailer is focused on implementing ongoing cost-reduction measures and managing operating expenses.
This includes reducing the number of 24-hour convenience stores and pizza delivery locations. The decision, Handley detailed, came after "an extensive, hour-by-hour profitability analysis in an effort to determine the optimal hours of operation and delivery offering."
The reduction resulted in an adverse impact on same-store sales, but Casey's "achieved a significant and measurable reduction in store-level operating expenses," according to the chief exec.
"The net result of this decision was an improvement in net income of approximately $1.5 million in the quarter," he reported.
Casey's continues to review additional opportunities to further reduce expenses. For example, since its last earnings call, the company implemented a new fleet management system that will improve distribution efficiency and reduce costs.
Furthermore, the retailer is evaluating its distribution system to identify long-term optimization opportunities. Casey's expects to complete this review in the next several months.
"As the retail landscape continues to evolve, we have taken significant steps to transform Casey's to enhance store performance and deliver long-term profitable growth," Handley said. "Moving forward, we believe Casey's has the right team in place and the correct strategy to successfully execute on our next chapter and drive significant long-term shareholder value."
Ankeny-based Casey's finished the fourth quarter with 2,073 convenience stores in 15 states.