Sponsored Content
Driving Profitability in the Beer Category without Sacrificing Trips
Get great content like this right in your inbox.
Subscribe
Trips, revenue or profit? When discussing the goal of the beer category with convenience store buyers, I usually get one of these metrics as a response. And, since beer is such a versatile category, it can support all of your company's needs.1 2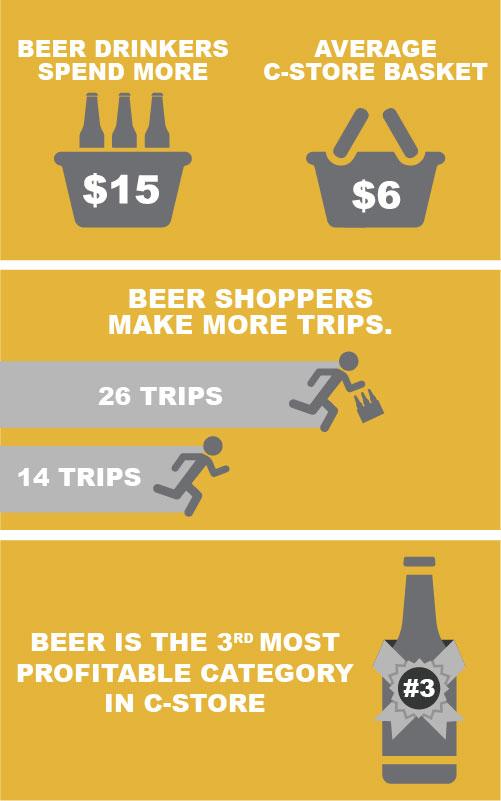 Although the beer category can be positioned to maximize each of these metrics, a balanced approach to drive profitability without sacrificing trips requires a more nuanced — but very possible — approach.
In order to do so, we need to dive into a topic that is often ignored: How does price affect beer unit sales?
THE IMPORTANCE OF PRICING IN BEER
From strategy to execution, pricing is incredibly important to beer shoppers. In fact, four of the top 15 reasons consumers give for choosing an outlet for beer purchases are price-related:
Good value for the money

Good deals and discounts

Lowest beer prices

Prices clearly displayed3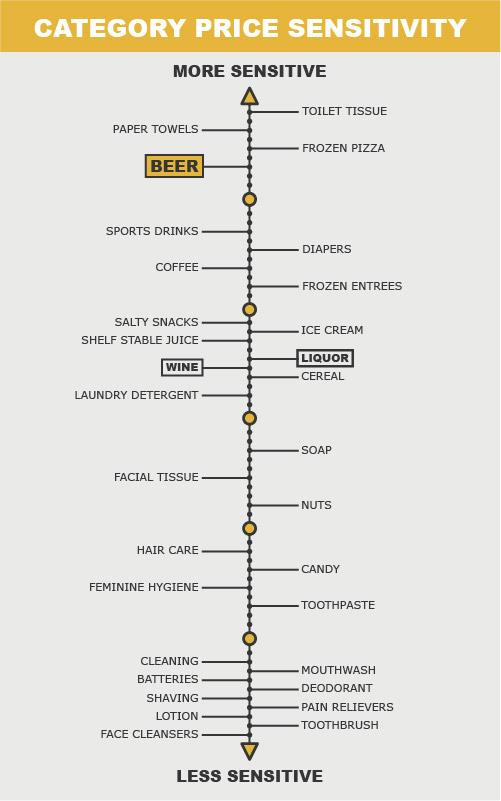 Beer also is one of the most price sensitive categories at retail. Even small decreases in beer prices can lead to higher sales — much more so than most categories in the store. The reverse also is true: Price increases can result in significant sales volume declines. On average, a 10 percent decrease in beer price delivers a 23 percent unit sales lift across all channels. In comparison, a similar decrease to prices of baby food or cleaning products generates a sales lift of only around 11 percent.4 Even without detailed knowledge of price sensitivity metrics, it's easy to see why large grocery chains often sell beer under cost to drive traffic.
Reference Price Packs
Over the last 13 weeks, more than 9,000 unique UPCs were sold in C-stores.5 Obviously, no consumer knows what a fair price is for every UPC. Price awareness is very high, however, with certain packs commonly referred to as reference packs. These packs are those that consumers most commonly purchase and retailers most commonly promote. Consumers see these prices in ads, on display and in their carts most often and therefore can recognize a good price. They often judge pricing in the entire beer category based on these popular packs.
In C-stores, no pack fits the bill of a reference pack more than 12-packs of 12-ounce premium light beers. Premium lights, such as Bud Light, Coors Light and Miller Lite have the highest percentage of sales on promotion. Premium light 12-packs lead all of C-store sales in both dollars and units.6
Consumers who shop the C-store channel also are far more likely to buy premium light beers than in other channels. Yet since 2013, the number of premium light SKUs has declined 5 percent despite a 29 percent rise in the total number of beer SKUs over that same period. If there's a pack that needs to be priced competitively to drive traffic and conversion, this is it.7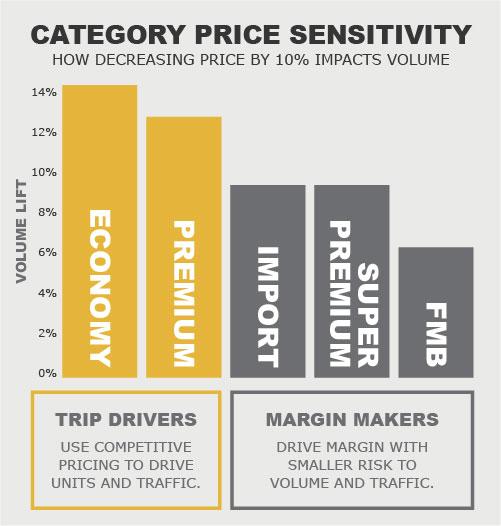 Every Pack has Its Place
If changes in price influence beer purchases to such a degree, it may seem impossible to simultaneously drive traffic and profitability. When retailers raise prices to boost profits, we would expect sales units — and therefore traffic — to decrease, right? Not so fast. The reality is that consumers don't react to changes in price uniformly across all products. Rather, they identify value far differently across segments. In the premium and below premium segments, price is the biggest factor in determining what they buy and where they shop. For above premium segments, such as craft, imports, super premium and flavored malt beverages, price plays a much smaller role, with consumers instead looking for value in brand equity and flavor. This is best illustrated by comparing price sensitivity across segments.8
As the graphic above shows, the best way to drive incremental units, revenue and traffic is by investing in price in the below premium and premium segments. While this may decrease profitability for these products, that margin can be recouped in segments where price changes will not result in drastic sales unit declines. Leaning into the equity and positive trends of FMBs, crafts, imports and super premium beers allows retailers to boost profits without risking volume. If enacted properly, these strategies can work in combination to balance the benefit of beer in your store, leading to more foot traffic, revenue and profits.
Data cited: 
1 MillerCoors Profitable Beer Marketing Transaction Study through November 2017
2 CSX  2017  Time Period Difference Report
3 C&R Research December 2016 / quant -Priorities When Deciding Where to Shop for Beer – Relative Importance Ranking (Max Diff Analysis)
4 Nielsen Price Elasticity Study 2018
5  Nielsen AOD Total US c-store 13 weeks ending 10/6/2018
6 Nielsen AOD Total US c-store and Total US 52 weeks ending 10/6/2018
7 Nielsen C-store analytics/space audit, Q4 2015
8 Nielsen Price Elasticity Study – Small Format 2018
---
About The Building with Beer Blog

Building with Beer is MillerCoors's approach and selling method to drive category growth across each class of trade.  It comes to life in publications, presentations, and selling aps with our sales teams, distributor network and retailers.  This blog, the newest addition to Building with Beer, is focused on understanding the shopper and retailer insights that drive category growth specifically in C-Stores.  Each month we will share new category insights that will help you grow your business. 
The foundation of Building with Beer® starts with the most up-to-date, solid facts and insights. Since 2010, we've analyzed 800 million c-store transactions, conducted more than 6,100 shopper exit intercepts, studied more than 2.9 million in-store visitors and 52 million c-store baskets nationwide with VideoMining, and talked with c-store shoppers across the country in focus groups. Through our partnership with NACS, we studied 8,000 shoppers in the Annual Convenience Tracking Program, as well as firms representing 18,517 stores in the State of the Industry report to fuel our thinking.