FDA Launches New Comprehensive Campaign Targeted at Youth E-Cigarette Use
Get great content like this right in your inbox.
Subscribe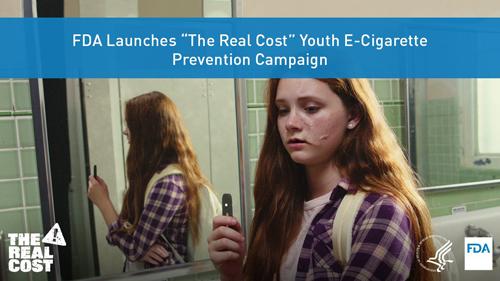 SILVER SPRING, Md. — The Food and Drug Administration (FDA) unveiled a new target for its "The Real Cost" campaign: electronic cigarettes.
The Real Cost Youth E-Cigarette Prevention Campaign is aimed at nearly 10.7 million youth, aged 12-17, who have used e-cigarettes or are open to trying them. The initiative features advertising on digital and social media sites popular among teens. The agency is also placing posters with e-cigarette prevention messages in high schools across the nation.
"[The U.S. Department of Health and Human Services (HHS)] is committed to comprehensive efforts to protect America's youth from the dangers of using any tobacco or nicotine-containing products. We congratulate the FDA on the launch of this new, hard-hitting campaign about the risk of addiction and other health consequences that can result from youth using e-cigarettes," said HHS Secretary Alex Azar.
"This public education campaign will reach teens directly and complement the aggressive steps the FDA is taking to crack down on the sale and marketing of e-cigarettes to minors," Azar added.
With its tagline, "Know the Real Cost of Vaping," the campaign aims to educate youth that using e-cigarettes, just like cigarettes, puts them at risk for addiction and other health consequences. The messages highlight that nicotine can rewire the brain to crave more nicotine, particularly because adolescent brains are still developing, according to the FDA.
Other messages highlight that e-cigarettes, among other things, can contain dangerous chemicals.
The ads will run on age-verified digital platforms such as YouTube, Spotify, Pandora, Facebook and Instagram, as well as "The Real Cost" campaign website and are targeted to reach teens with digital media and printed prevention messages in a school environment.
This includes using location-targeted advertising around high schools nationwide and placing e-cigarette prevention content on educational platforms that are typically accessed by students during the school day. Posters also will be placed in at least 10,000 high school bathrooms, and additional materials for students and educators will be distributed to schools, in collaboration with Scholastic and Students Against Destructive Decisions (SADD), the agency said.
"The FDA has a successful track record of using compelling, science-based public education campaigns to encourage kids to rethink their relationship with tobacco and is bringing the same approach to these new efforts to prevent youth use of e-cigarettes," said Mitch Zeller, director of the FDA's Center for Tobacco Products.
"E-cigarette use among youth is a tremendous concern and this new campaign will allow us to effectively communicate the dangers of these products to teens. Public education is a critical component of our ongoing work to prevent youth use of tobacco products and complements our enforcement and regulatory efforts to protect kids," Zeller added.
In April, the FDA introduced its Youth Tobacco Prevention Plan as a key piece to its efforts to keep e-cigarettes and vapor products out of the hands of underage users.
In its latest move, the agency announced it issued more than 1,300 warning letters and fines to retailers who illegally sold e-cigarette and vapor products to minors during "a nationwide, undercover blitz" of retail stores and online sites this summer, as Convenience Store News previously reported.