Hershey's 2018 Valentine's Day Products
Hugs & Kisses Cube Valentine Gift Tower among new items.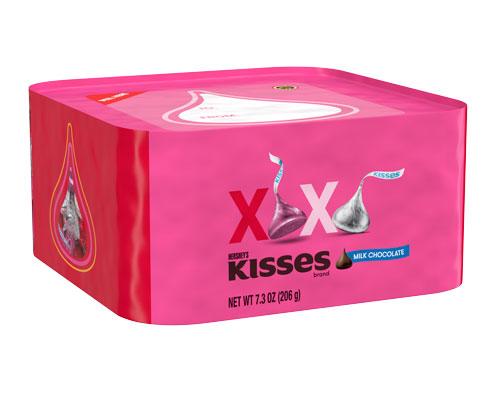 Hershey's has created a slew of festive new products for this Valentine's Day, from twists on classic favorites to ideal gifts for sports fans and peanut butter enthusiasts. Reese's Pink Peanut Butter Hearts combine pink creme and classic Reese's peanut butter in a heart shape. They're available in 10.2-ounce bags for a suggested retail price of $3.99. There's also the Reese's Peanut Butter Cup Miniatures Cane (SRP $2.49); Reese's & Kit Kat Valentine's Exchange and Jolly Rancher Jelly Hearts Valentine's Exchange (SRP $5.99); and Reese's Peanut Butter Cup Miniatures Valentine Gift Cube and Hershey's Kisses Milk Chocolate Valentine Gift Cube (SRP $3.49).
Additional Valentine's Day 2018 new items are:
Hershey's Hugs & Kisses Cube Valentine Gift Tower (SRP $9.99) 
Reese's Peanut Butter Cups Football or Basketball Heart Box (SRP $4.99)
Hershey's Nuggets Milk Chocolate with Almonds Heart Box (SRP $9.99) 
Hershey's Nuggets Special Dark Chocolate with Almonds Heart Box (SRP $9.99)
Hershey's Kisses Deluxe 11-piece Marbled Cheesecake Flavor Chocolate Heart Box (SRP $5.99) 
Hershey's Kisses Brand Milk Chocolate Conversation Candies (SRP $4.39)
1-pound Reese's Peanut Butter Heart (SRP $10.99)