Leap Nicotine-Salts-Based Vapor System
The new product line from E-Alternative Solutions includes both rechargeable and disposable models.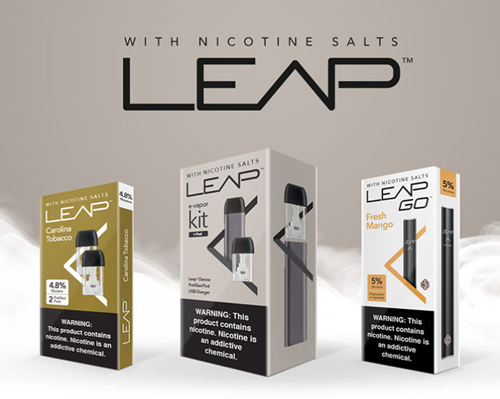 E-Alternative Solutions is expanding its portfolio of closed-system vaping products with Leap, a nicotine-salts-based vapor system brand. Leap features a sophisticated design, more powerful battery and higher capacity e-liquid pods than the leading competitor, according to the company. The Leap Vapor with Nicotine Salts franchise includes both rechargeable and disposable models, each offering a range of e-liquid flavors and three nicotine levels.
The rechargeable system, The Leap Device, is offered in two kits, with and without a 1.5 milliliter e-liquid pod. The e-Vapor Kit includes a Carolina Tobacco flavor with 4.8 percent nicotine. Both kits include a USB charging cable. Leap Pods come in eight flavors: Carolina Tobacco, Sweet Tobacco, Menthol, Creamy Mint, Arctic Berry, Apple Strawberry, Watermelon Kiwi and Island Cream. Each flavor is initially available in a 4.8 percent nicotine level, and will soon be offered in 2.4 percent and 0 percent as well. The suggested retail price per package of two 1.5 mL pods is $7.99.
The disposable product, Leap Go, comes in six flavors: Smooth Tobacco, Menthol Mist, Cool Mint, Georgia Peach, Mixed Berry and Fresh Mango. Each Leap Go flavor is available in a 5 percent nicotine version, and will soon be offered in 3 percent and 0 percent, too. Leap Go has a suggested retail price of $7.99.