07/31/2018
Marathon Petroleum & Andeavor's Integration Efforts Are Outpacing Expectations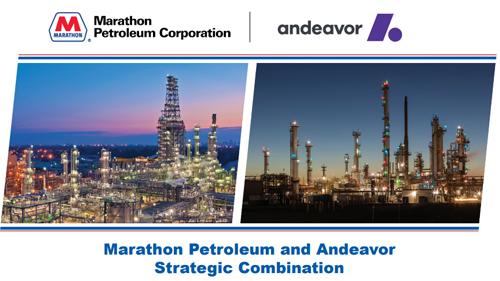 FINDLAY, Ohio — The pending merger between Marathon Petroleum Corp. (MPC) and Andeavor is moving into its final stages, and MPC Chairman and CEO Gary Heminger continues to see only upsides of the $23.3-billion deal.
On April 30, Findlay-based MPC and San Antonio-based Andeavor entered into a definitive merger agreement under which MPC will acquire all of Andeavor's outstanding shares, representing a total equity value of $23.3 billion and a total enterprise value of $35.6 billion. MPC and Andeavor shareholders will own approximately 66 percent and 34 percent of the combined company, respectively, as Convenience Store News previously reported.
"We continue to be very enthusiastic about the combination of Marathon Petroleum and Andeavor into a premier, nationwide, integrated downstream energy company," Heminger said during MPC's second-quarter earnings call on July 26.
"There are tremendous benefits to combining these two powerful businesses, which will be well positioned for long-term growth and shareholder value creation. This combination is expected to generate at least $1 billion of tangible annual gross run-rate synergies within the first three years — which is anticipated to drive more than $5 billion of incremental cash generation over the first five years alone," he said. 
With regulatory approvals rolling in and the closing targeted for the second half of this year, integration efforts are well underway. 
"We made significant progress on our proposed transactions from a regulatory standpoint. At the same time, we have also made substantial progress in our integration planning," explained MPC President Don Templin. "Since we announced this transaction about 12 weeks ago, we've been focused on day one. Our combined teams have worked diligently to identify key best practices across our organization, with a goal of developing a bottoms-up plan to achieve our $1-billion annual run-rate gross synergy target. We are currently ahead of our baseline integration plan, and expect to be ready to go at close." 
When all the Ts are crossed the Is dotted, the combination of Marathon and Andeavor will create a national retail and marketing business of approximately 4,000 company-owned and -operated locations and approximately 7,800 branded locations.
In refining, Andeavor's facilities in California, the Mid-Continent and the Pacific Northwest will complement MPC's existing Gulf Coast and Midwest footprint, and will make the combined company the No. 1 U.S. refiner by capacity and a top five refiner globally with throughput capacity of more than 3 million barrels per day.
"We have the bit in our mouth and we are ready to go with this integration. I have not seen any negatives; I've only seen positives," Heminger said.
"We still have to be very careful of front-running and you can't get to too detailed until you get the final approvals, but what we have seen to date is very positive and we're looking at some opportunities just recently that we did not see in the original analysis that we completed that are certainly an upside," he added.
And this pending transaction aside, MPC is still keeping an eye out for other opportunities.
"Even though we have a very large transaction going, we don't take our eye off the entire industry and the entire horizon of what's going on in the marketplace. Yes, we continue to evaluate almost everything that is available and a lot of things that probably aren't available," Heminger said. "We will look, but I wouldn't say we are running to the finish line with anything."
MPC is currently the nation's second-largest refiner, with a crude oil refining capacity of approximately 1.9 million barrels per calendar day in its six-refinery system. Marathon brand gasoline is sold through approximately 5,600 independently owned retail outlets across 20 states and Washington, D.C. In addition, Speedway, a MPC subsidiary, owns and operates the nation's second-largest convenience store chain, with approximately 2,740 convenience stores in 22 states.
Andeavor is an integrated marketing, logistics and refining company. Andeavor's retail-marketing system currently includes more than 3,200 stores marketed under multiple well-known fuel brands, including ARCO, SuperAmerica, Shell, Exxon, Mobil, Tesoro, USA Gasoline and Giant. It also has ownership in Andeavor Logistics LP and its non-economic general partner. Andeavor operates 10 refineries with a combined capacity of approximately 1.2 million barrels per day in the mid-continent and western United States.