Selfie Bunnies From R.M. Palmer
Hollow milk chocolate bunnies are part of new Easter 2018 lineup.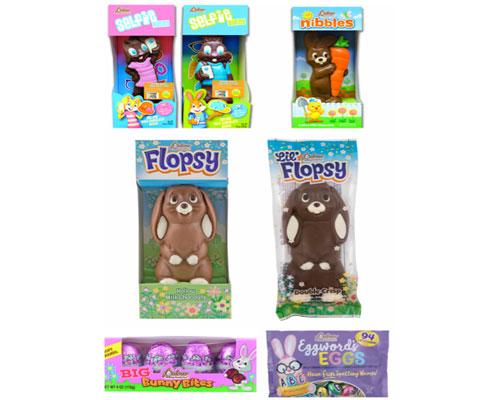 R.M. Palmer is introducing several new hollow bunnies and confections for Easter 2018. Selfie Bunnies are 10-ounce boy and girl hollow milk chocolate bunnies that are posed ready for their "selfie" photos. They have a suggested retail price (SRP) of $6. Nibbles is an 8-ounce hollow milk chocolate bunny that holds an enormous chocolate carrot (SRP of $5), while Flopsy is a 14-ounce floppy-eared, milk chocolate hollow bunny (SRP of $8). There's also Lil' Flopsy, its 5-ounce Double Crisp sibling (SRP $1). Other Easter 2018 new products include: Caramel Big Bunny Bites, a four-pack of chocolaty eggs with soft caramel centers (SRP $1); and Eggword's Eggs that come in a 32-ounce bag of assorted Smooth & Creamy eggs (SRP $7).