05/25/2021
C-store Retailers Welcome Customers Back With a Summer Full of Deals
GPM's fas REWARDS members can enjoy limited-time offers, while Pilot Flying J celebrates the third-annual National Road Trip Day.
NATIONAL REPORT — As the weather warms up and more consumers get vaccinated, convenience store retailers and travel center operators are welcoming guests back with a summer season full of promotions, deals and giveaways to fuel road trips and getaways.
The latest roundup includes:
Casey's is putting the "free" in freedom this summer by offering Casey'sRewards members millions of free prizes and the chance to bring a live concert from country music star Lee Brice to their hometown through the retailer's Summer of Freedom sweepstakes.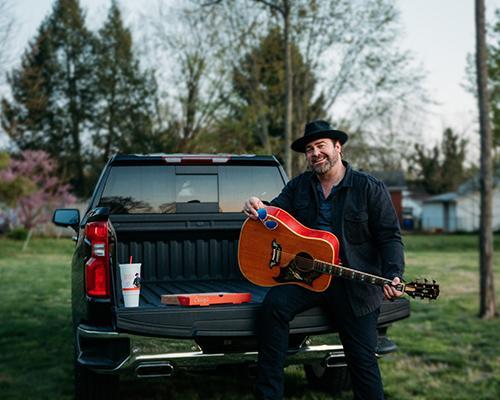 Each qualifying purchase of food, drinks and fuel with Casey's Rewards is a chance at instant win prizes and is an automatic entry to the sweepstakes to win the Lee Brice concert.
The sweepstakes is open now and ends Sept. 7.
"We know people are craving good food, good company and good music, and Lee Brice and Casey's have teamed up to make this summer great," said Chris Jones, chief marketing officer at Casey's. "When you shop at Casey's, you can earn rewards and a chance to win a hometown concert from Lee Brice, while grabbing your favorite Casey's snacks, our famous pizza and cold drinks."
Casey's also has summer deals, including two special offers from Lee Brice:
The Lee Brice Combo, featuring Casey's new BBQ chicken sandwich and a medium fountain drink for only $5.

The Casey's Parking Lot Party Pizza Deal, which offers two single-topping pizzas, on order of new, made-from-scratch cheesy breadsticks and a pair of two-liter bottles of Casey's soda for just $24. Customers can order online or with the mobile app using the code "LEEBRICE."

Buy-one, get-one-half-off large pizzas through June 22 using the code "BOGO" when ordering.
Ankeny, Iowa-based Casey's operates nearly 2,300 convenience stores in 16 states and is the fifth-largest pizza chain in the United States.
GPM Investments LLC
Richmond, Va.-based GPM Investments kicked off its 100 Days of Summer program, taking place May 19 through Sept. 7 across the retailer's network of 3,000 convenience stores.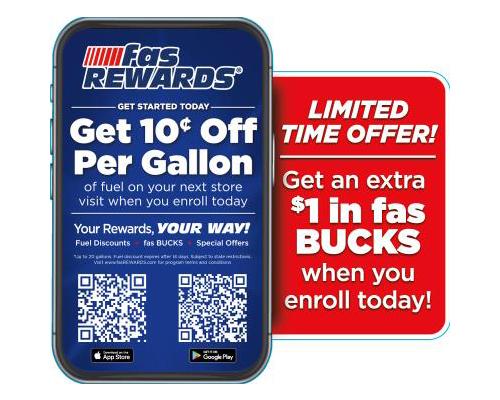 Throughout the season, GPM is partnering with various suppliers to provide fas REWARDS members with limited-time offers including:
Two for $3 Mountain Dew;

BOGO Doritos XXL during select weekends of the summer;

Buy two, get one free 28-ounce Gatorade; and

Buy two, get the second for $1 on King-size KitKat, PayDay, Hershey's Chocolate and Reese's.
For a limited time, customers can also earn an extra $1 in fas BUCKS upon enrolling in the fas REWARDS loyalty program.
"Summer is a busy time for the convenience store industry. As more of our customers return to spending more time on the go, we look forward to providing them with exciting limited-time offerings throughout the summer season," said Ruth Ann Lilly, vice president of merchandising and marketing at GPM. "We want to make sure they can find everything they need in one place and at a great value. With these promotions across product categories, fas REWARDS members benefit from great deals all season long."
In addition to these limited- time fas REWARDS offerings for enrolled members, GPM is rolling out a new Tangerango Frazil frozen slush in more than 800 stores.
GPM Investments is a wholly owned subsidiary of ARKO Corp. It operates or supplies stores in 33 states and Washington D.C. It is the sixth largest convenience store chain in the United States, with approximately 3,000 locations comprised of 1,400 company-operated stores and 1,625 dealer sites to which it supplies fuel.
The travel center operator's summer promotion, Summer Drive, is offering deals like $1 off or more on its popular food, beverages and snacks through June 30. Love's-branded food and drink items are also part of the promotion.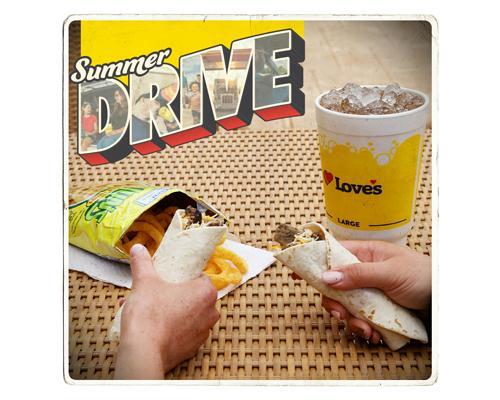 "Love's is always looking for ways to give customers a break at the checkout, and we can't think of a better way than with deals on some of our most popular items," said Mark Romig, director of merchandising for Love's. "We know more people are hitting the highway this summer for vacation than ever before, and we hope they can stop in at a Love's to take advantage of these deals."
The Summer Drive promotion also includes the Road Trip Meal Deal. Customers who purchase:
Any combination of a deli item and drink will get a Frito-Lay chip selection for $1;

Any size coffee will get a Hostess snack for $1; and

Any size fountain drink will get a Reese's candy for $1.
Headquartered in Oklahoma City, Love's operates a network of more than 550 locations in 41 states.
MAPCO My Reward$ members can "Win Big, Win Weekly" through the convenience retailer's Summer Sweepstakes.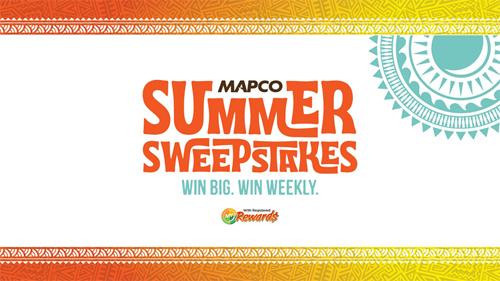 Running May 18 to Sept. 6, rewards members can redeem points for entries into the Summer Sweepstakes for the chance to win weekly prizes or one of three grand prizes.
"During this summer, we're giving another reason to stop at MAPCO. We're bringing extra fun, excitement and several prizes to our guests with MAPCO's Summer Sweepstakes," said MAPCO Chief Operating Officer Tony Harris. "With our ongoing promotions and deals, our guests know MAPCO is the destination for a Better Break, where they can refresh and recharge at their pace."
MY Reward$ members can use their points to redeem entries to the Summer Sweepstakes via the MAPCO website or the MAPCO app. More points that are entered into the sweepstakes mean more of a chance to win a weekly or grand prize.
Winners will be announced upon the completion of the sweepstakes.
MAPCO, based in Franklin, Tenn., operates more than 330 c-stores across seven states. It is a subsidiary of COPEC, a leading South America-based retail company.
Pilot Flying J
Pilot Flying J is celebrating the third-annual National Road Trip Day, officially kicking off the season of summer deals and giveaways, as well as the chance to win $5,000 in free fuel with the Summer is a Go Road Trip Giveaway.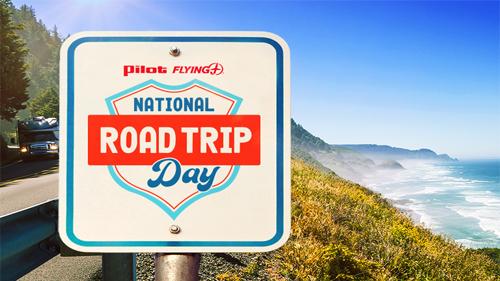 "This summer represents a return to the road for so many people and we're hoping to inspire everyone to take the road trip of their dreams while participating in the Summer is a Go Road Trip Giveaway," said Brian Ferguson, chief merchant for Pilot Flying J. "Pilot Flying J is the ultimate one-stop travel center to fuel up, re-energize and restock on road trip essentials. With safety and cleanliness a top priority, our guests can expect friendly service, clean restrooms and quality items at every stop."
Running from May 24 through Sept. 5, the Summer is a Go Road Trip Giveaway will reward guests with a grand prize of $5,000 in free fuel, as well as three monthly prizes of $250 gift cards.
To enter, road trippers, professional drives and other guests share pictures of their adventures on Pilot Flying J's Facebook page, or by tagging @PilotFlyingJ on Instagram and Twitter with the hashtag #SummerIsAGoGiveaway.
Participants can double their chances and earn an additional entry by including any Pilot-branded cup in their photo.
To celebrate National Road Trip Day (May 28), Pilot Flying J is offering summerlong deals through the myRewards Plus mobile app, including:
BOGO drinks, beginning May 24;

$5 off purchase of $15 or more (excluding tobacco, fuel, lottery and alcohol) from May 28-31;

$2 off the new southern or spicy chicken sandwich from May 24-30 at participating locations;

BOGO 50 percent off on all sunglasses from May 31 to June 6; and

99-cent fountain or frozen drinks with the purchase of any hot food item at the register through Aug. 31.
"After an unusual year for many, National Road Trip Day recognizes the pent-up demand to get back on the road and spend quality time with loved ones while safely exploring new destinations," said Whitney Haslam Johnson, chief experience officer for Pilot Flying J. "For over 62 years, Pilot Flying J has fueled America's road trips and with more than 750 locations serving over 1.5 million guests a day, our travel centers are ready to welcome road trippers with clean, safe fuel stops and everything needed for a summer of fun."
Based in Knoxville, Pilot Flying J's travel center network includes more than 750 locations in 44 states and six Canadian provinces with more than 680 restaurants, 74,000 truck parking spaces, 5,300 deluxe showers, 6,200 diesel lanes and provides truck maintenance and tire service through Southern Tire Mart at Pilot Flying J.
The York, Pa.-based retail kicked off the summer early with the April 26 launch of its 2021 VIP Summer Sweepstakes. As part of the annual promotion, Rutter's will give away more than $50,000 in cash and prizes to VIP customers over the next four months.
"We love rewarding our loyal customers with the chance to win prizes, while enjoying some of their favorite items from Rutter's," said Robert Perkins, vice president of marketing at Rutter's. "After a difficult summer in 2020 for many of our customers, we're excited to provide them with some fun to 'take back summer'!"
Sweepstakes entries, in the form of collect-to-win game pieces and online drawings, allow customers to win weekly $100 gift cards, free Rutter's coffee for a year, free fountain beverages for a year and free fuel for a year, as well as $2,000 Rutter's gift cards and the grand prize of a $5,000 Rutter's gift card.
The VIP Summer Sweepstakes runs until Aug. 29. No purchase is necessary.
Rutter's operates 79 locations in Pennsylvania, Maryland and West Virginia.
TXB
TXB, previously known as Kwik Chek, is kicking off the summer with its annual 100 Days of Summer giveaway. From June 1 through Sept. 8, participants can win one free prize every day by playing the virtual scratch-and-win game available on the TXB mobile app.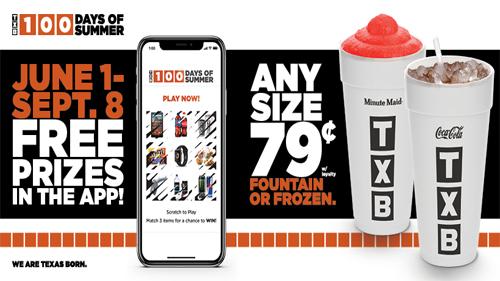 This year's prizes include a variety of big-ticket items, as well as candy bars, chips, drinks, snacks and fresh-made food, including: 
Free gas for a year;

Apple AirPods;

Six Flag tickets;

Free chicken roll sandwiches;

Free chicken fajita tacos and quesadillas; and

Free brisket sandwiches.
"We love treating our guests through our 100 Days of Summer giveaway as it's something they look forward to all year long," TXB Marketing and Brand Manager Anna Felz. "Nothing beats winning daily prizes, no matter if it's a fun trip to Six Flags or a juicy brisket sandwich to enjoy for lunch. We want TXB visitors to get the most out of every day of summer by experiencing our fresh-made meals, snacks and beverages."
To redeem their prizes, winners simply show the cashier at the register the barcode produced on their phone by the scratch-and-win game for any in-store prize, or fill out a form to have their prize shipped to them. Coupons earned through the game are valid for 24 hours, and guests can win one prize per day.
Spicewood, Texas-based TXB has more than 47 locations throughout Texas and Oklahoma.