Marathon & Andeavor Stockholders Approve $23.3B Merger
Get great content like this right in your inbox.
Subscribe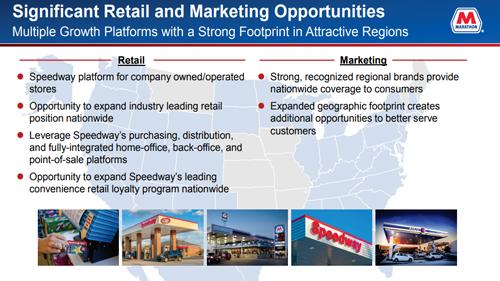 FINDLAY, Ohio — Stockholders for Marathon Petroleum Corp. (MPC) and Andeavor have said yes.
At separate special stockholders' meetings in their perspective hometowns on Sept. 24, Andeavor stockholders approved the adoption of the previously disclosed agreement and plan of the merger, and MPC stockholders approved the issuance of shares of MPC common stock in connection with the merger.
Andeavor's proposal to approve the transaction was supported by approximately 99 percent of votes cast, representing approximately 74 percent of its outstanding shares.
MPC's proposal to issue shares in connection with the transaction was supported by approximately 98 percent of votes cast, representing approximately 73 percent of its outstanding shares.
"We are pleased that the shareholders of both companies voted overwhelmingly in support of this transaction," said MPC Chairman and CEO Gary R. Heminger. "As we look forward, we remain focused on the tremendous potential this combination will bring our shareholders and are excited to begin executing our strategy to transform our company and realize our expected synergies."
At the MPC special meeting, MPC's proposal to increase the size of its board of directors by two members was not approved.
Also at the Andeavor special meeting, stockholders approved, among other things, on a non-binding, advisory basis, certain compensation that may be paid or become payable to Andeavor's named executive officers in connection with the merger.
This satisfies one of the final conditions to the closing of the pending merger.
Under the terms of the deal, MPC will acquire all of Andeavor's outstanding shares, representing a total equity value of $23.3 billion and a total enterprise value of $35.6 billion. MPC and Andeavor shareholders will own approximately 66 percent and 34 percent of the combined company, respectively, as Convenience Store News previously reported.
The two companies made headlines with the merger on April 30. During a call on the deal, Heminger said the combined company's headquarters will be in Findlay with an additional office in San Antonio, Andeavor's hometown.
Upon closing, Heminger will remain at the helm. Andeavor Chairman and CEO Greg Goff will join MPC as executive vice chairman. In this new role, Goff will provide leadership and be integrally involved in the strategy for the combined company. 
On the retail side, Anthony R. Kenney, president of Speedway LLC, will have responsibility for all company-owned and -operated convenience stores.
For additional executive leadership news for the new company, click here.
The New Company
Subject to approval of the Andeavor and MPC shareholders and other customary closing conditions, the companies expect to close the transaction on Oct. 1.
Moving forward from that date, the merger company will be a nationwide player in convenience and fuel retailing, as Convenience Store News previously reported.
This merger expands Marathon's operations across key markets nationwide, combining the strong position it has historically enjoyed east of the Mississippi with the western U.S. presence that Andeavor has built over time, Heminger explained this spring. 
In refining, Andeavor's facilities in California, the Mid-Continent and the Pacific Northwest complement MPC's existing Gulf Coast and Midwest footprint, and will make the combined company the No. 1 U.S. refiner by capacity and a top five refiner globally with throughput capacity of more than 3 million barrels per day.
The retail and marketing opportunities are significantly expanded as a result of this combination. Pro forma, MPC will have a nationwide retail and marketing business of approximately 4,000 company-owned and -operated locations and approximately 7,800 branded locations.
To read more about the creation of the new retail powerhouse, click here.
MPC is currently the nation's second-largest refiner, with a crude oil refining capacity of approximately 1.9 million barrels per calendar day in its six-refinery system. Marathon brand gasoline is sold through approximately 5,600 independently owned retail outlets across 20 states and Washington, D.C. In addition, Speedway, a MPC subsidiary, owns and operates the nation's second-largest convenience store chain, with approximately 2,740 convenience stores in 22 states.
Andeavor is an integrated marketing, logistics and refining company. Andeavor's retail-marketing system currently includes more than 3,200 stores marketed under multiple well-known fuel brands, including ARCO, SuperAmerica, Shell, Exxon, Mobil, Tesoro, USA Gasoline and Giant. It also has ownership in Andeavor Logistics LP and its non-economic general partner. Andeavor operates 10 refineries with a combined capacity of approximately 1.2 million barrels per day in the mid-continent and western United States.