New Pilot Flying J Marketing Campaign Aims to Fuel College Football Fans
Get great content like this right in your inbox.
Subscribe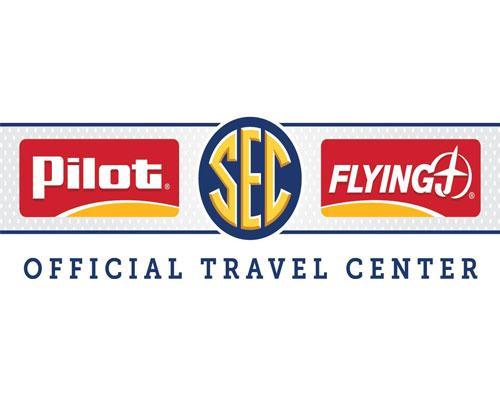 KNOXVILLE, Tenn. — As the "Official Travel Center of the SEC," Pilot Flying J is kicking off "Welcome To," the travel center operator's new marketing campaign designed to fuel football fans on the road.
The 360-degree campaign includes a new ad creative, exclusive myPilot mobile app promotions and partnerships with popular ESPN/SEC personalities Paul Finebaum and Laura Rutledge, as well as brands ORCA, Johnsonville and Dr Pepper.
"We're excited to elevate the second year of our four-year sponsorship with ESPN and the SEC with a campaign that reinforces to fans that we are the one-stop-shop for all college football gameday and travel essentials," said Whitney Haslam Johnson, chief experience officer for Pilot Flying J.
"From brats and pizza to ice, coolers and drinks, we want you to know there's a place that has exactly what you need on the road to the game and for your ultimate tailgate," she added.
To kick off the second year of its SEC sponsorship, "Welcome To" will run across television and a variety of digital platforms. It features Carol, an enthusiastic Pilot Flying J team member showcasing all that Pilot Flying J has to offer to every guest that comes through the door. The spot will air on SEC Network, ABC and ESPN properties, and run digitally on ESPN.com, SECNetwork.com, the ESPN app and more.
While the new "Welcome To" marketing campaign will debut as a part of Pilot Flying J's official SEC sponsorship, it will be integrated into a larger brand campaign. In Pilot Flying J's home city of Knoxville, "Welcome To" is already being tested on billboards.
Also new this year, Pilot Flying J is partnering with official SEC sponsors Johnsonville and Dr Pepper, as well as ORCA, to add to the in-store experience for fans this college football season:
ORCA
College football fans can pick up ORCA drinkware and coolers in Pilot Flying J travel centers across the country from Aug. 31 through Nov. 1, or until supplies last. In SEC-specific markets, ORCA products will be regionally branded, featuring emblazoned logos of participating SEC schools.  
Throughout the college football season, Pilot Flying J and ORCA will also be partnering to deliver exclusive giveaway opportunities like the "ultimate tailgate package," a weekly giveaway at all SEC Nation stops.
Johnsonville
To commemorate the football season, and in response to customer demand for the brand, Pilot Flying J is offering Johnsonville Cheddar Beer Brats in all travel centers across the country. Fans can receive a $1-off coupon in the myPilot app from Sept. 17 to 30.
Upon initial download of the myPilot app, fans will also receive a digital offer for a free drink.
Dr Pepper
Fans who scan and buy a 20-ounce Dr Pepper at participating Pilot Flying J locations will receive 30 percent off their favorite gameday gear. The promotion runs Aug. 31 through Dec. 6.
Throwback to Year One of Sponsorship
In addition to the all-new "Welcome To" marketing campaign, Pilot Flying J is bringing back several of the most popular aspects of its official SEC sponsorship from year one.
The sponsorship provides exposure for Pilot Flying J on SEC Network programming and within the SEC footprint through SEC Nation, the network's traveling football pre-game show. The travel center operator will also be the presenting sponsor for three of SEC Nation's regular season broadcasts.
As part of the brand's status as "Official Travel Center of the SEC," Pilot Flying J will be bringing its mobile "Fueling All Fans Experience" unit to various college campuses alongside SEC Nation, which will offer two of Pilot Flying J's in-store offers right outside the stadium: cold brew coffee and Johnsonville Cheddar Beer Brats. Fans can also enter on-site to win the weekly "ultimate tailgate package" giveaway from ORCA and Pilot Flying J.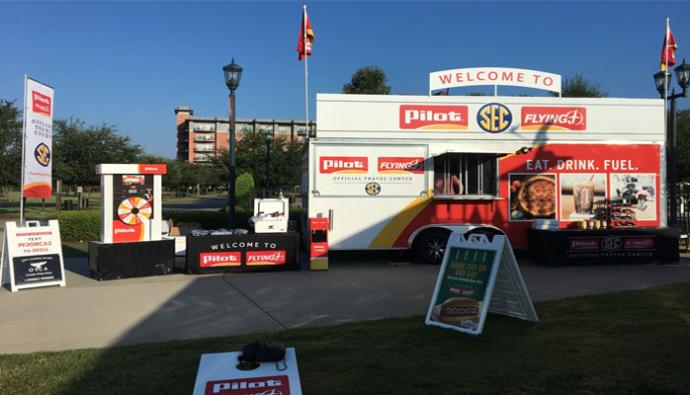 Finebaum and Rutledge, popular ESP/SEC personalities, are also back to kickstart the sponsorship.
"Pilot Flying J not only plays a crucial role in serving professional drivers across our country on a daily basis, but has everything those dedicated SEC fans traveling from state to state need to root on their favorite team," Finebaum said. "It's great to be back with the company as it looks to do more in year two of their conference sponsorship this season."
"Tailgating is such a rich tradition in sports, especially college football," Rutledge added. "I met my husband at an Alabama tailgate in 2011, so to partner with Pilot Flying J, the one-stop-shop for all tailgating needs, is such a great fit. I'm looking forward to joining Paul and celebrating with fans all season long!"
Headquartered in Knoxville, Pilot Flying J operates more than 750 retail locations in 44 states.