08/02/2018
Three Critical Tips for Increasing Your Singles Sales

Relaxing is the top occasion consumers buy beer for at convenience stores and shoppers turn to singles for this occasion more than any other pack. In fact, singles in c-stores represent a 25 share of category dollars and 55 percent of beer transactions. Singles growth has been impressive and is responsible for two-thirds of beer category gains over the past five years.
So, it's no surprise that singles shoppers are some of the most valuable c-store customers, and data show their c-store trips are increasing: Singles shoppers will visit a c-store 29 times a month and purchase a single 20 times!3 On top of that, singles are more than 1.5 times more profitable than the average category margin.
Here are three steps you can take to win with singles: see video or tips below.
1. Get more space for singles
Beer often is under-spaced in the cooler, which means it's worth more in sales than the space it is allocated. On average, the best-performing c-stores have at least 40 percent of cooler doors dedicated to beer, with 25 percent of that space dedicated to singles. The math is straightforward: When beer is allocated more cooler space, revenue increases more than any other beverage category in the cooler.5
2. Optimize merchandising
Singles and multipacks rarely overlap, with only 3 percent of beer transactions containing both singles and multipacks in the basket5. Creating a singles destination will help the singles shopper find what he/she needs quickly. Merchandising singles together rather than dispersing them across all doors results in an 18 percent higher sales rate, on average6. It's important to organize your cooler to help shoppers find what he/she wants quickly. For the best results, organize your singles shelves from top to bottom:
Flavors – sweet and flavor variety, FMBs
Indulgence – imports, crafts, ciders, super premium beers
Refreshment – easy and familiar big brands, premium and near premium
Value – budget beverages and malt liquor
Thirst Quencher – Large format bottles or cans (32-ounce, 40-ounce, 42-ounce packages)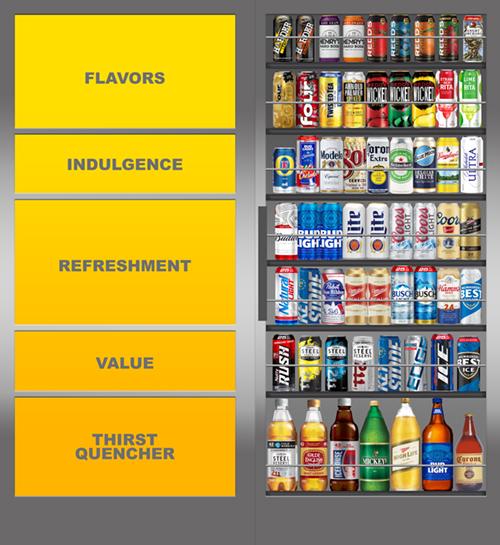 3. Simplify pricinG
Too often in c-stores, items are not clearly priced or not priced at all. This creates unnecessary confusion and frustration for shoppers, who must spend more time than they want in the store. In the end, they may end up purchasing less.
To encourage repeat trips, it's important to make shopping at your store easy and fast. The average singles shopper will buy 1.5 singles per trip, meaning sometimes he or she will buy one single and sometimes he or she will buy two. Two-for pricing can play a key role in enticing shoppers to buy two singles every time. Even without price discounts, we've seen sales lifts of 5 percent to 8 percent.
To further simplify pricing for consumers, offer two-for pricing by segment vs. at the brand level. This makes it easier for the shopper to quickly understand the price and make the decision to buy two. Every time.
Data cited: 
1 Global Survey Growth Strategies 2016
2 VideoMining 2016
3 MillerCoors PBM Consolidated Intercepts, 2017
4 TNS, 2014
5 Nielsen Convenience Space Audits, bi-annual audit, Oct. 24, 2015
6 Nielsen C-Store Audit, Q3 2016
---
About The Building with Beer Blog

Building with Beer is MillerCoors's approach and selling method to drive category growth across each class of trade.  It comes to life in publications, presentations, and selling aps with our sales teams, distributor network and retailers.  This blog, the newest addition to Building with Beer, is focused on understanding the shopper and retailer insights that drive category growth specifically in C-Stores.  Each month we will share new category insights that will help you grow your business. 
The foundation of Building with Beer® starts with the most up-to-date, solid facts and insights. Since 2010, we've analyzed 800 million c-store transactions, conducted more than 6,100 shopper exit intercepts, studied more than 2.9 million in-store visitors and 52 million c-store baskets nationwide with VideoMining, and talked with c-store shoppers across the country in focus groups. Through our partnership with NACS, we studied 8,000 shoppers in the Annual Convenience Tracking Program, as well as firms representing 18,517 stores in the State of the Industry report to fuel our thinking.