Industry Roundup: The Top 10 Most-Read Stories of May 2018
Get great content like this right in your inbox.
Subscribe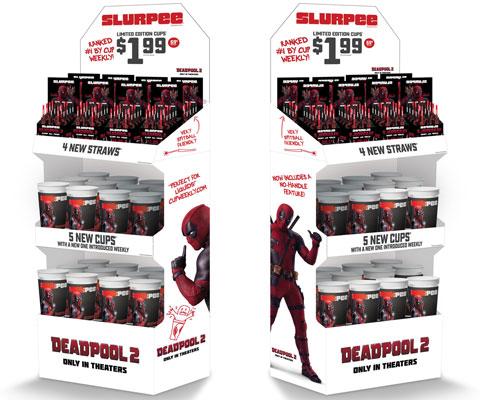 NATIONAL REPORT — Various convenience store chains' plans for growth were among the stories important to Convenience Store News readers last month. In the latest Industry Roundup, we present the top 10 most-read stories for the month of May, based on reader views:
1) Introducing the 2018 Class of Convenience Store News Top Women in Convenience
Now in its fifth year, the program recognizes the integral role women play in convenience retailing and encompasses four different award categories honoring the full retail spectrum, from the C-suite to the store level to the independent entrepreneur.
2) 7-Eleven Transforms Stores Into 'Deadpool 2' Headquarters
Nationwide, the convenience store retailer launched exclusive Deadpool-themed products, sweepstakes promotions and its first-ever augmented reality (AR) in-store experience that brings Deadpool into the store. All AR activities can be accessed through the 7-Eleven mobile app.
3) How Marathon Petroleum & Andeavor Merger Will Create a Retail & Marketing Powerhouse
Much like Andeavor predecessor Tesoro Corp.'s 2017 acquisition of Western Refining Inc. created a substantial retail network in the U.S. convenience channel, Marathon Petroleum Corp.'s pending acquisition of Andeavor will solidify the soon-to-be combined company as a nationwide player in convenience and fuel retailing.
4) Pilot Flying J to Soar to New Heights This Year
"Our goal each and every day is to connect people and places with comfort, care and a smile at every stop of their journey," Pilot Flying J Chief Merchant Brian Ferguson told Convenience Store News in a recent exclusive interview. "Knowing the critical role our travel centers play in achieving this goal, our team is working hard to ensure we are opening new locations and also upgrading our facilities, food and other in-store offerings — including driver amenities, modern facilities, and the latest and fastest technology — to deliver a consistent, elevated experience to all drivers on the road, no matter which Pilot or Flying J location they may visit."
5) Global Partners Buying C-store & Retail Fuel Assets of Champlain Oil
The acquisition includes 37 company-operated gas stations with Jiffy Mart-branded convenience stores in Vermont and New Hampshire, and approximately 24 fuel sites that are either owned or leased, including lessee dealer and commission agent locations.
6) Foodservice Is a Path to Prosperity, Says Condoleezza Rice
Working in a restaurant may be very different from working on Capitol Hill, but a career in foodservice has more in common with the needs of the United States than is immediately obvious, according to Condoleezza Rice, former U.S. Secretary of State and keynote speaker at the 2018 National Restaurant Association Show.
7) Buc-ee's Wins Trademark Infringement Fight Against Competing Texas Travel Stop
Choke Canyon's logo consists of a smiling alligator wearing a hat on a circle while Buc-ee's logo consists of a smiling bucktoothed beaver wearing a hat on a circle. Buc-ee's lawsuit claimed that the infringement extends to the shape and general appearance of its retail outlets, including the decor, menu and other features reflecting on the chain's overall image that make its stores "immediately identifiable and unique."
8) The Four Consumer Groups C-stores Should Be Targeting
Convenience store customers fall into four main clusters based on what matters most to them when they head inside the store: Value, Convenience, Price and Health. As part of its 2018 Convenience Store Report, TrendSource clustered like-minded customers in an effort to better understand shopper behavior.
9) Murphy USA CEO Assesses Store Growth & the Competitive Landscape
In the first quarter, Murphy USA opened two new stores, ending the quarter with 1,448 stores — 1,158 Murphy USA sites and 290 Murphy Express sites. Construction is underway at 22 locations, including 12 raze-and-rebuild kiosks that will return to operation as 1,220-square-foot convenience stores.
10) Rutter's Expands Fresh Food Menu With Two Local Favorites
Bacon is reigning supreme once again. Rutter's is expanding its food menu to include two local favorites: Pork Belly and Pepperoni "Roni" Rolls. Rutter's focuses on local manufacturers and suppliers to help it bring high-quality ingredients to customers. The c-store retailer describes local food items as products that come from producers/manufacturers within a 100-mile radius from its corporate office, or in the state of Pennsylvania